One HUGEEEE update!!
The end of the year is fast approaching which means a stack of fezzys, parties, booze and your wallet probably taking a bit of a hit. So as an early present for you guys, we've just launched one suuuper exciting feature so you get more of the first three and a little bit less of the last…
INTRODUCING: USE MULTIPLE PASSES FOR PREMIUM EVENTS
Over the last few months we've spoken to loads of our members (love you guys!) to find out how we can make GiggedIn even better, and one question we got all the time was "Why can't I use more of my passes instead of paying the premium fee?"
And we thought – huh, true! Why not? So we've been working hard behind the scenes to finally wave goodbye to the premium fees and hello to a new system which operates entirely on passes!
WHAT DOES THIS MEAN?
If you login now, you'll notice all our premium events now say RSVP – not ACCESS! And instead of requiring 1 GiggedIn Pass + premium fee, ALL events will absorb a certain number of GiggedIn passes. So you could head to Kali Uchis for 4 passes or FOMO for 10 passes etc etc..
WHY IS THIS BETTER FOR ME?
It means you can get the most value out of your passes! Go to a few big festivals a year? Stack up multiple passes over a few months and then exchange them all for one sexy little festival ticket.
Prefer an intimate gig every weekend? Use GiggedIn just like before, but if a more exxy gig tickles your fancy and you've got a few passes in your account, swap them for a ticket without having to pay extra!
ARE EVENTS MORE EXPENSIVE THAN BEFORE?
Noooooo!!! We've worked super hard to roll out this system so Premium events are just as affordable as before – in fact, if you take a good look some gigs are an even better deal now.
WHAT IF I DON'T HAVE ENOUGH PASSES?
No stress! When you click RSVP, you'll be prompted to purchase the extra passes that you're missing at the same price as before – $14.95 per pass!
WANT TO KNOW WHAT'S COMING UP? CLICK FOR SYDNEY OR MELBOURNE.
And since we love you all THIS much we've got ANOTHER huge announcement that you guys have been BEGGING us for…
WE'VE JUST LISTED MOUNTAIN SOUNDS 2019!!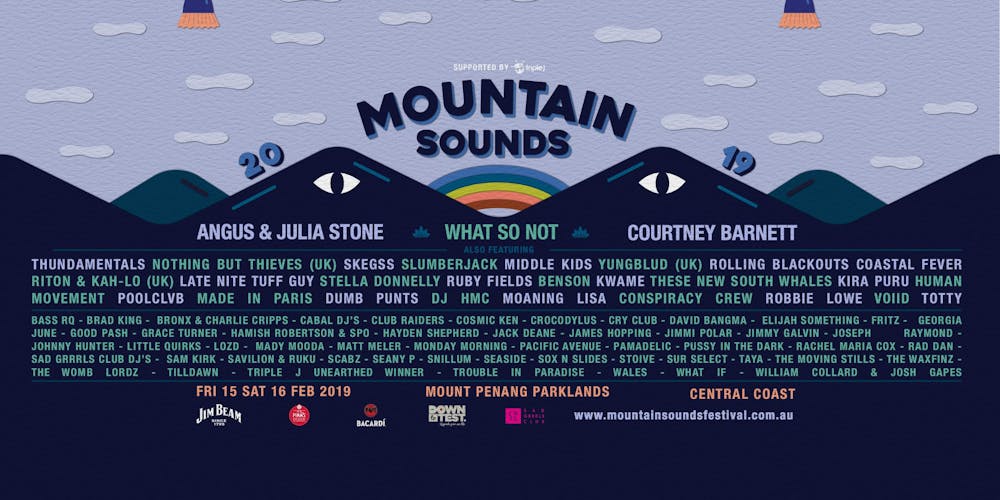 WE. ARE. SO. KEEN. We had so much fun up the coast with you guys last year and we've received soooo many requests for it that we HAD to bring it back. We could harp on for days about how f*cking HUGE this year's gonna be but the lineup speaks for itself.
Login now and claim your 2-day passes, Friday passes, Sat passes and camping tix using our new premium pass feature!
OH MAN. That's all the updates from us for now – a ginormous thank you to all the members who have spoken to us over the last few months, we couldn't do this without you guys! Our mission is to support the local live music scene and make it super affordable, but to do that we need to make GiggedIn the best it can be. So if you ever have thoughts, suggestions or just want to say hi, shoot us an email at contact@giggedin.com!
Otherwise, happy holidays and we'll see you at Mountain Sounds 2019!
– The GiggedIn Crew <3